The 7th LDAPCon will take place from November 4th to November 6th in the Vitosha 1 hall of Holiday Inn Sofia. The Holiday Inn Sofia is a popular venue for events and conferences. It offers comfortable conference rooms and high-speed internet.
The hotel is situated near Sofia's Business Park, the area that hosts the offices of many Tech companies and is the "business center" of the city. It is only a 5 minute walk away from the "Business Park" Metro station.
How to get from Sofia Airport to Holiday Inn
Immediately next to the Airport exit lies the Sofia Airport Metro station. From there, take the train for 6 stations and get off at Mladost 1 Station. There, go over to the opposite direction of the track, and take a M1 Train to the Business Park. The destination of the train will be written on the front of the train, and on the panel showing the next upcoming train. Get off at Sofia Business Park station, which is also the last stop of the line. From there, Holiday Inn is a 5-7 minute walk: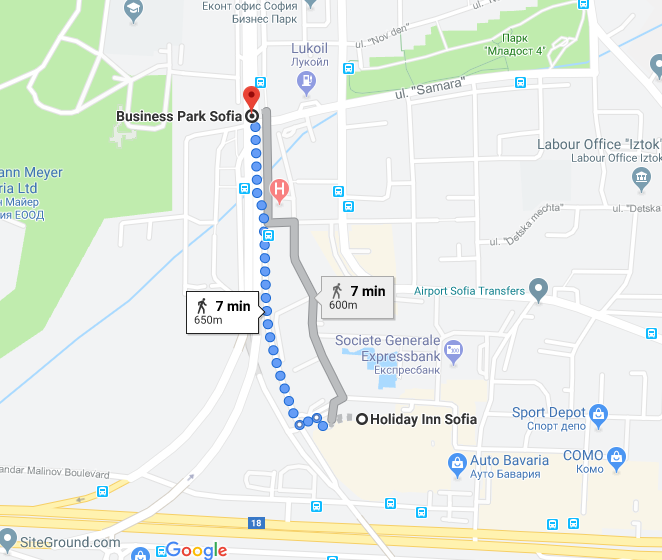 How to get from Holiday Inn to the City Center
Go to the Business Park Sofia Metro station, and take any train in the "Center/Obelia" direction. You can get off at Serdica station, where you can see the Statue of Sofia, which is the inspiration for this year's conference logo, the President's Office, The Ministry Office, Bania Bashi, "Nezavisimost" square where the famous yellow brick pavement starts, or take a walk down Vitosha Blvd and see the St Nedelya Church. Or you can get off at "St. Kliment Ohridski", where you can see the house of Parliament, or take a walk in "Borisovata gradina" park ("The Garden of King Boris").
When coming back from the Center, be sure to take an M1 train, else you will have to switch trains at Maldost 1 Station.